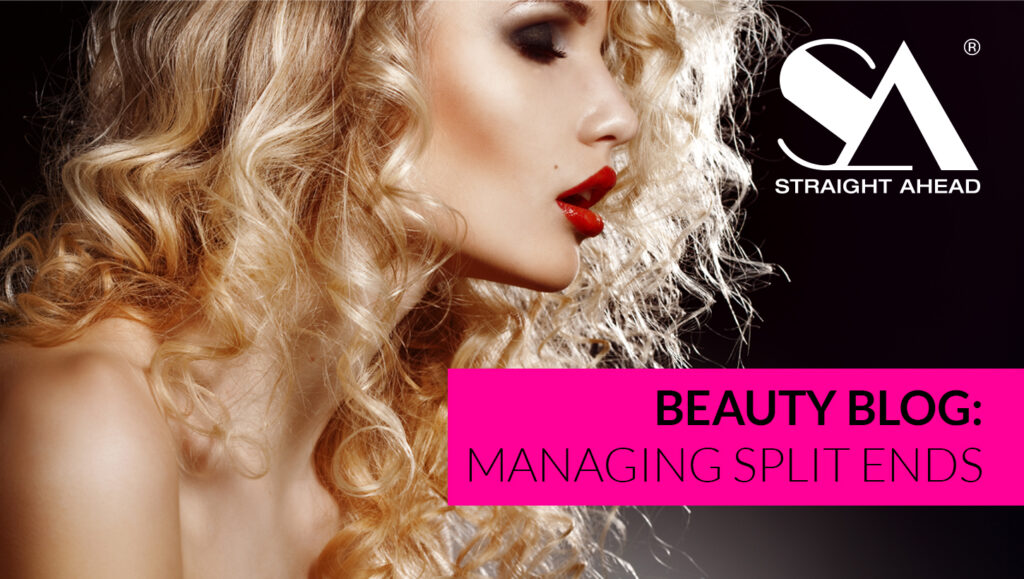 Split ends are a result of the fraying or separating of the hair strand into two or more fragments. This is due to damage caused by excessive stress on the follicle. Even though the only way to completely get rid of split ends is by snipping them off, there are things you can do to prevent them from cropping up in the first place and to stop them from climbing further.
RETHINK THE WAY YOU TOWEL DRY YOUR HAIR
Your hair is actually most vulnerable during the drying process, so the way you treat it after a shower will make a huge difference to the number of split ends you have to deal with.
Rubbing your hair dry with a towel will only promote more breakage, and the last thing you want is for those splits to travel upwards. Instead, apply pressure by gently squeezing the excess water out of the hair using a towel.
RE-ASSESS YOUR BLOW-DRYING TECHNIQUE
We're all guilty of blasting dripping wet hair with a hairdryer, but if you're serious about preventing split ends, it really pays to allow your hair to air dry as much as possible before letting loose with the dryer. Anywhere from 60% – 90% dry is ideal. The longer you leave your hair exposed to heat, the more damage is likely to occur.
Even better? Miss the ends out completely.
Invest in a quality heat protectant and avoid placing heat directly on to the ends of the hair. Focus more on the roots and mid lengths – leave the ends to dry from the secondary heat and always keep the nozzle moving constantly for an even distribution of heat. Also try your best to dry on a cold air setting.
Never touch the nozzle to the hair directly. Even rough-drying hair means applying heat, so if you really want to protect it, just use your hairdryer to create shape and to smooth the cuticles. Position it just above the hair and brush.
BIN YOUR BRUSH
It might not feel like it, but hair is much more flexible and prone to damage when wet. Your trusty paddle brush? It could be doing more harm than good.
It's always good to start with a wide tooth comb. You don't need to add pressure or brush vigorously, especially if you start at the bottom of your hair and work your way up, otherwise, you're just dragging the knots.
Makes sense, right? And you should really be taking your time at this stage to prevent causing any damage. There's no harm in splitting your hair into sections to brush it.
BEEF UP YOUR HAIR CARE ROUTINE
You can't repair split ends permanently, but there are some amazing products out there that have the ability to make them much less obvious. Smooth, sleek hair? Yes please. Damaged split ends crave moisture. Try using moisturizing hair masks and oils.
BOOK A KERATIN TREATMENT
Keratin treatments are totally worthy of their game-changer status and are especially amazing if you suffer with fuzzy, parched split ends – not a good look.
So, how do they work? Well, they harness a large dose of proteins (mainly keratin), which, when blow-dried into the hair, smooths and reinforces the fragile strands that would usually be prone to fraying. It also lends a mirror-like shine and cuts styling time in half.
SWITCH UP YOUR SHAMPOO & CONDITIONER
While there are no magic shampoos or conditioners that will get rid of split ends, choosing something filled to the brim with moisturizing ingredients can help disguise them.
They also work to strengthen and protect strands against other factors that contribute to them, such as coloring.
THINK ABOUT GETTING A SILK PILLOWCASE
A silk pillowcase won't cure split ends but it's more of a luxury preventative measure, as is tying your hair in a loose ponytail while you sleep.
GET A TRIM
If you're growing your hair, the last thing you probably want to do is book in for a trim, but the longer you leave it in between salon appointments, the more likely you are to cause further breakage – and really, a haircut is the only thing that will completely eradicate split ends. The hair follicle will just continue to break and snap along the hair shaft otherwise.
To be clear, the only way to truly banish this dreaded hair affliction is to snip the split ends off. However, you can treat them so they're less noticeable between cuts.