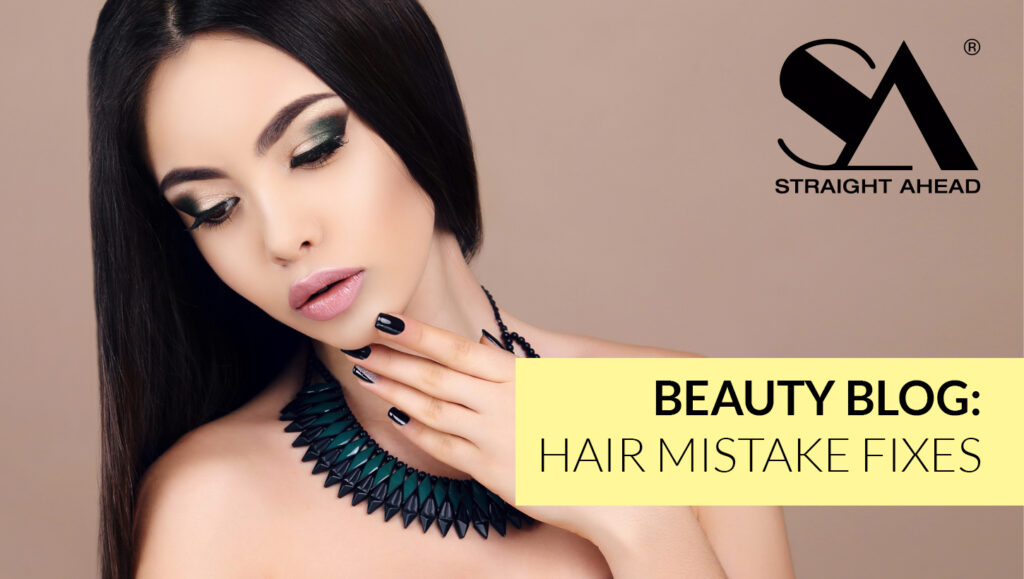 Mistakes are an inevitable part of a life well-lived. If you're not messing up from time to time, you're probably not taking risks, living outside your comfort zone, or trying new things. At Straight Ahead Beauty, we believe mistakes are an inherent part of the process, so we believe in failing quickly and learning and growing from our mistakes.
Of course, some mistakes are harder to come back from; spilling a glass of Bordeaux on your white blouse, sleeping through your alarm and being late to an important meeting, or picking the wrong major in college. At the onset, the prospect of making the wrong choice can feel daunting, but remember, you can always cycle backward or find a new road to go down. Don't feel unnerved when you realize you've made a mistake, because you can always reframe the experience in a positive way, as a learning experience.
Today, however, we're tackling an especially common, though less severe series of mistakes: hair styling mistakes. Sure, messing up your 'do may not be plaguing you with anxiety, but it sure can put a damper on your mornings, and you know what they say: win your morning, win your day!
To help make life go a little more smoothly—at least in the hair styling department—we've compiled a list of common hair pickles many of us have found ourselves in when we're strapped for time or just too lazy to bother with starting from scratch. Accidentally curled your hair in the wrong direction and now dealing with an unsightly bend? We show you how to fix it. Too much dry shampoo making you look like you've got a sudden explosion of dandruff on your scalp? We got you.
Fixing a curling iron bend
Whether you're a curling iron newbie or a seasoned user, it's easy to make a mistake from time to time. A curling iron bend is essentially a crimp that occurs in your hair from leaving it in your hair for too long, or more likely, from curling your hair in the wrong direction (against the clamp, rather than in the same direction).
So, what's a girl to do next time this happens? First off, just let it cool. If you're in a hurry, resist the urge to try to fix your mistake right away as this will just make the bend harder to correct. When you continue to apply heat to your hair, you'll find that the section of hair falls flat and becomes harder to curl. Not to mention, you're putting excess heat on your hair unnecessarily, which in turn, causes more damage.
Instead, simply apply some heat protectant to the section to reset your strands and allow them to cool entirely. Then, a minute or two later, curl the section of hair again, making sure you're curling the hair away from your face to avoid another annoying bend. It's that easy!
Applying too much dry shampoo
We've all been there: you're in a rush to get ready for work in the morning with not enough time to wash your hair. So, what do you do? Dry shampoo, of course! But with those pesky pumps and malfunctioning nozzles, it's easy to end up with too much product on your scalp. Brunettes, we know this can be especially stressful when you suddenly apply too much product and now your roots have adapted a grey hue. So what's a girl to do?
Before you panic and run your scalp under the tap, take a breather. Start off by patting the area with a damp towel. This should absorb the excess product that's sitting on the surface of your hair. Avoid brushing through your roots at this stage; you want to avoid pushing the product into your hair further, as this will make it harder to remove.
Although the towel step should get rid of the excess powder, you'll likely still find that your hair has a white cast. Now, apply a few drops of hair oil to your fingers—a little bit at a time to avoid making your scalp look oily—rub your fingers together and carefully apply to the area of your scalp with too much dry shampoo. The hair oil will mimic the natural oils on your scalp to help absorb the excess product.
Finally, brush through your hair to disperse what is left of the excess product and ta-da! Your hair should look fresh, bouncy, and free of any dry shampoo residue.
Dealing with a hair elastic dent 
You've spent hours giving yourself the perfect blowout, but you don't want to miss that morning workout class you love. We don't think you should have to sacrifice good hair for good health, but it can be annoying to have to start from scratch each time you hit the gym.
While dry shampoo can definitely help with combating the post-workout sweat, it can't make up for the dent you get in your hair when you pull it back for your workout. The first step here is prevention. Rather than opting for a standard hair elastic or worse, a rubber hand to secure your bun or ponytail, use a scrunchie. The soft fabric is less likely to create a dent in your hair. Plus, it's less likely to cause pulling, snagging, and hair breakage.
If you still find your hair has a dent mid-way through your lengths when you take your hair down, simply apply some heat protectant spray or some water to a hairbrush. Next, begin combing through the area while you blow-dry your hair. Remember, you don't need to re-blowout your hair from root to tip, simply concentrate the heat where the dent is as this will help smooth it out and restore your hair to its former glory.
Now that you know the trade secrets to hair damage control, you can tackle any styling mishap with ease and expertise. Whether you're strapped for time in the morning or getting ready for a big event, remember that any hair styling problem can be solved relatively quickly.
Do you have any tips for fixing a styling accident? Let us know in the comments below. We love hearing from you!
Ref: https://www.luxyhair.com