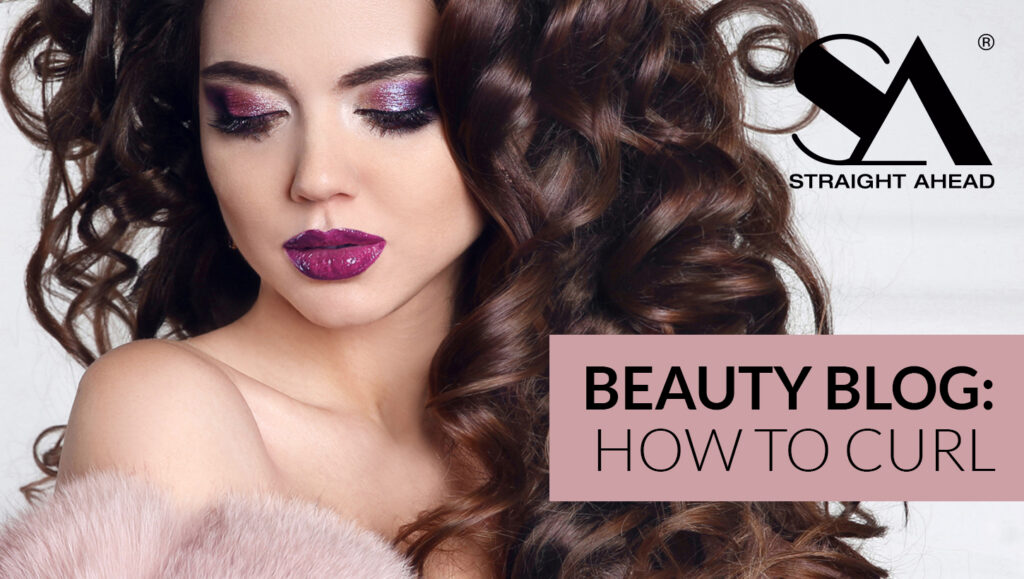 Everyone loves bouncy spirals, but how do you get them? Here are some different ways to add some curls to your hair. Before you being though, here are a few tips to keep in mind.
We recommend practicing with your curling iron or flat iron in the OFF position. It may seem silly, but this will allow you to practice these techniques without putting unnecessary heat on your hair while doing so. After you feel confident in the gestures go ahead and turn on the heat.
Always use a heat protectant spray when you use heated styling tools. Working with heat protection is vital to the health of your hair. Heat doesn't just dry hair out, it can destroy the integrity of the inner structure of the hair, and even decrease the longevity of that beautiful color that you invested in at the salon.
HEATED TOOLS
Curling Iron Curls
Photo Ref: https://www.samvilla.com/blogs/hair-tutorials/6-different-ways-curl-your-hair
Start by picking the barrel size you want to work with. The larger the barrel the bigger and looser the curls, and the smaller the barrel the tighter and smaller the curls. We recommend our 1" Pro Styling Wand.
Then, take a small section, about ½" and mist with a thermal heat spray from at least 6" away to protect the hair. Wrap the entire section from base to ends around the barrel of your styling wand. Make sure to wrap the sections around the curling iron all in the same direction. If you want to curl away from the face, twist and wrap in the outwards direction from your face and vice versa for inward curls.
Hold the section around your curling iron for about 5-10 seconds.
Remove your curling iron and hold the curl in your hand for a few seconds to allow the curl to cool. This will help set the curl. Once your entire head is curled, shake the curls out with your fingers to loosen and add more volume. You can finish the look off with a flexible hold hairspray.
HOT TIP: Allow your spiral curls to really cook! Spiral curls collapse because they either didn't get enough heat or they didn't cool long enough to set the style!
Flat Iron Curls
Photo Ref: https://www.samvilla.com/blogs/hair-tutorials/6-different-ways-curl-your-hair
Take a medium size section about 1 in to 1 ½ in wide and prep with a thermal heat spray.
Hold the section in one hand and your Straight Ahead flat iron in the other with the iron vertical and your palm facing the head.
Pinch the section at base and, as you pinch, fold your hand so your palm faces you (still holding the section with left hand). Slowly slide flat iron down to the end of the hair shaft and release hair, this will allow the hair to spring into a ribbon curl.
Remove your flat iron and hold the curl in your hand for a few seconds to allow the curl to cool.
Use your hands to shake the curls out and finishing with a flexible hold hairspray to keep the curls in place.
NO HEAT CURL TECHNIQUES
One of the easiest ways to get loose waves without heat is to braid your hair at night and sleep with the braids in. That way, when you wake up in the morning, all you have to do is undo the braids and apply a smoothing hair oil, like our Biotin Infused Hair Serum, to tame any frizz.
Scrunch time! If you're blessed with hair that has some texture, this is probably the simplest technique. Spray some sea salt spray on damp hair, from mid-shaft to ends, and scrunch upwards. This technique will encourage your natural waves for that chic beach vibe.
You might think hair rollers are more your grandma's thing, but they don't have to be! These babies can easily give you heatless glam curls. On damp hair, start rolling sections from the bottom up and secure with a bobby pin. Let it dry for two to three hours or overnight. You'll have gorgeous waves and can apply hairspray, like our Blow Out Spray to set them.
Find an old t-shirt. It might sound a little strange, but it really does work. First, twist a T-shirt into a roller shape and tie the ends together to create a large DIY halo. Then, put the halo on top of your head, wrap pieces of hair around it, and pin the hair in place. Leave your hair in the halo overnight, and in the morning, you can remove all the pins to reveal soft, bouncy curls.
The sock bun technique is a creative, but also effective method. Cut the tip off of an old sock and roll it up to get a doughnut shape. (Or, you can just get a donut hair bun, but that's no fun!)
Once you have your sock bun, pull your ponytail through the hole, and then pull sections of your hair through it to create a large bun. Again, let the bun sit overnight, and pull your hair out to get gorgeous wavy locks.