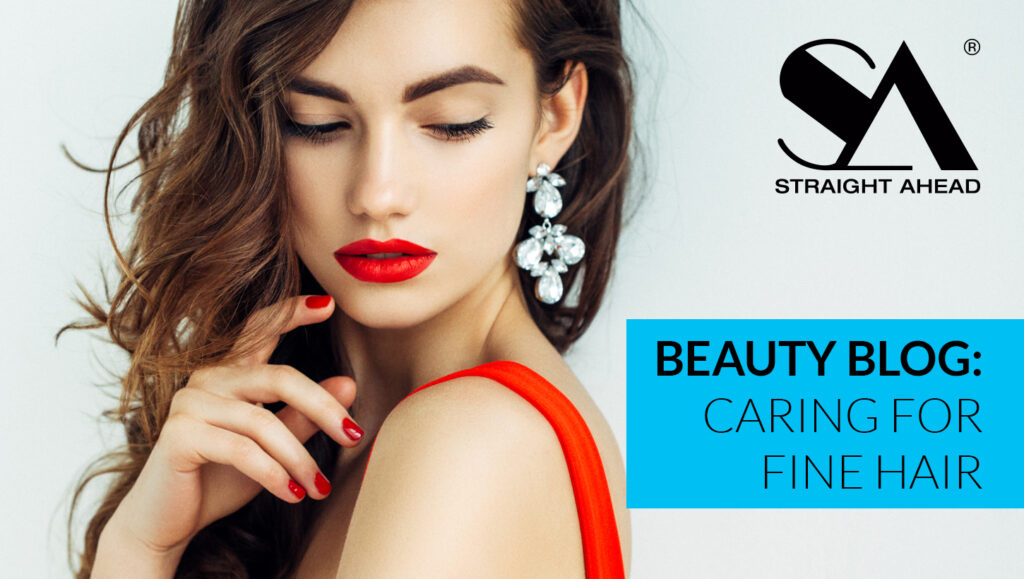 If you have fine hair, you know it can be both a blessing and a curse. On the bright side, your skinny strands don't need as much product to coat them. Often, fine hair is naturally silky and smooth, and responds to heat styling easily.
But the downsides, on the other hand, are all too real. From tangles to lack of volume, fine hair sometimes takes some finagling to look great. If you're frustrated by all the bombshell blowouts you see on the runway, you're not alone. But the good news is: with the right routine, care, and products, you can whip your fine hair into shape!
What is Fine Hair?
Fine hair describes your hair's texture, which is classified in terms of the width, diameter or circumference of the actual hair strands. If you have fine hair, your individual strands are smaller in diameter, while coarse hair has a thicker diameter.
Note: Not sure what type of hair you have? A simple hair texture test can give you the answer. Pluck a strand of hair and rub it between your fingers. If you can't feel it, your hair strands are fine. If you can feel it between your fingertips, you have medium hair. If it feels thick and coarse, you have coarse hair.
What's the Difference Between Fine and Thin Hair?
When you run your hands through your hair, does it feel like there's not much there? Keep in mind this doesn't necessarily mean you have fine hair — it may just be thin.
While similar sounding, these are different qualities or traits that hair can have. "Fine" hair references the thickness of the strand, as with the texture test we described above. Having "thin" hair references the density of the follicles, or how close individual strands are to each other. It's entirely possible to have hair that is both fine and thick, or coarse and thin. If the concept is still confusing to you, think about this: When men are balding, the concept used to describe the hair is "thinning" because they have less densely populated hair in a particular area.
How to Care for Fine Hair
Fine hair can be easily cared for with the right products for your hair type. As always, it's best to start in the shower. To avoid limp strands, wash every day to every other day with a volumizing shampoo. When you're ready for conditioner, this is where it gets tricky. While you want to keep you locks conditioned, of course, overly-moisturized hair can end up flat and lifeless. If your roots get greasy fast, as fine hair tends to do, minimize the amount of conditioner you use and focus on the ends rather than your roots. You can also master this balancing act by using a leave-in treatment that will help repair, restore, and detangle your locks. Spray this on after your shower, and again, focus on the ends instead of the roots.
After your shower, keep in mind that hair is much more susceptible to breakage when it's wet — especially fine hair! Pat the moisture out of your hair with a towel rather than vigorously rubbing it. Avoid brushing your hair while it's wet for the same reason. When time allows, let your hair air dry to prevent heat damage. If you must use heat, use a low temperature — and don't forget to apply a heat protectant first!
The old adage "you are what you eat" applies to your hair, too. Be sure to add biotin-rich foods into your diet, like nuts, bananas, and egg yolks. If you don't think you're getting enough biotin from diet alone, supplements are also an option.
Common Fine-Hair Concerns
Maintaining and styling fine hair presents unique challenges. Here are a few of the common concerns, and how to combat them!
Tricks for Tangles
Condition hair well. Ensuring your hair is properly moisturized is the best way to keep tangles at bay. The softer the hair strand, the less likely it will intertwine with other strands. Once a week, try a deep conditioner to boost your strands.
Minimize blow drying. Allow your hair to mostly air dry before bringing out the blow dryer. Blow drying strips the hair of essential oils and dries it out, causing it to tangle more easily.
Tricks for Greasiness
Wash your hair every day. Unlike with other hair types, this is a must-do to combat greasiness.
Use a sulfate-free shampoo that doesn't strip your hair of essential moisture.
Apply products from mid-length to your ends. Many products are too heavy for fine hair, especially when applied to the roots.
Dry your hair 100% before leaving your house. Not doing so can add to the illusion of both greasy and lifeless hair.
When in doubt, keep your dry shampoo handy! A quick spritz can refresh styles in an instant.
Tip:Apply dry shampoo at night, not in the morning. This will give it more time to absorb excess oil, and any tossing and turning you do will give your hair more texture and volume the next day.
Tricks for Flat, Lifeless Hair
Blow dry your hair upside down.
Limit brushwork. Don't sabotage your volume by brushing your hair too much. Too much brushwork can make your hair limp. Also, dry your hair at least 90% with your hands before going at it with your round brush.
Ease up on products. When it comes to fine hair and product usage, remember: less is more. This rule applies to conditioner application, as well. Too much product will weigh down your hair and make it look greasy.
Don't sleep on wet hair. Unlike your coarse hair counterparts, fine hair doesn't bounce back from a good night's sleep on wet hair, mostly because fine hair doesn't bounce to begin with. Sleeping on wet hair will kink, requiring you to style it using heat, which defeats the purpose of sleeping with wet hair.
Best Haircuts and Styles for Fine Hair
The foundation for beautiful hair includes great products and a great cut! In general, the best haircuts for fine hair are shorter. This is all thanks to gravity: if your hair doesn't have natural volume, extra weight will only weigh it down more. If you're not willing to sacrifice your length for volume, have no fear, there are haircuts that make movement and dimension still possible.
Here are a few ideas for hairstyles for fine hair:
Bob
Long bob (or "lob")
Long layers
Wispy bangs (avoid heavy bangs!)
The popular ombre coloring technique can also add depth and dimension to fine hair, so it's a great option.
After you find the best haircut for your fine hair, the next step is learning how to style it. The biggest hurdle people with fine hair face is achieving full-bodied and voluminous locks. The good news, though, is fine hair is one of the best hair types to have because it's both manageable and malleable! With certain blow-drying techniques, quality volumizing hair products, and the right cut, all your hair goals can be achieved.
Add volume, or at least the illusion of volume, with these styling tips for fine hair:
Switch up your part. A deep side part can give the illusion of fullness, while a jagged part makes the top layers stick up, giving the illusion of thicker hair. Either option adds an instant boost to transform your tresses.
Add waves. Hair looks fuller when worn wavy. Transform your naturally limp locks into gorgeous tresses with the use of a curling iron. Adding volume to the sides gives the illusion of fuller hair.
Half updo or bun. This hairstyle gives you the opportunity to gently backcomb your hair to achieve the height of an updo, boosting volume with smart styling.