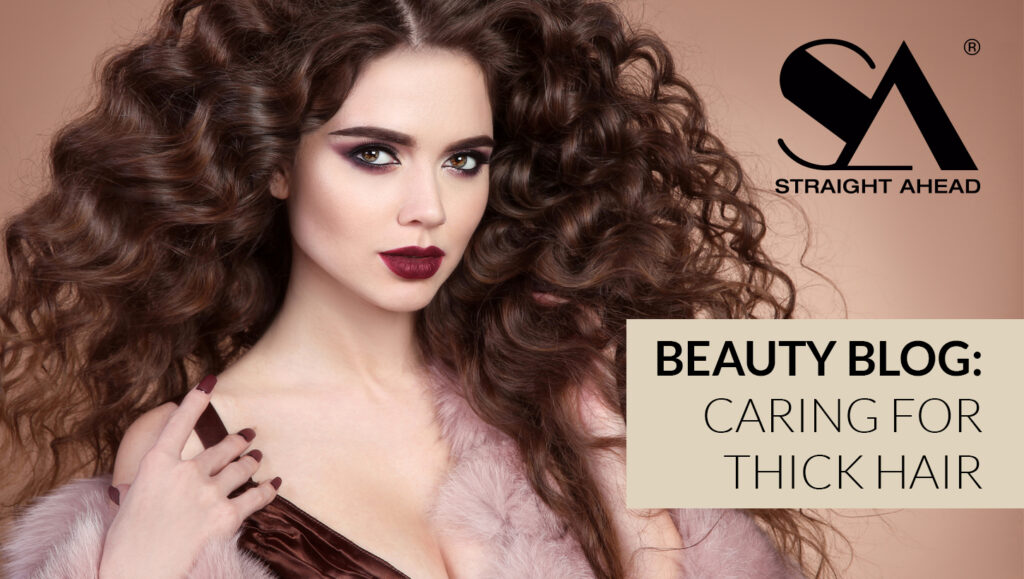 Thick hair is often viewed as the ideal type of hair to have, but those who were born with a full head of thick, luscious locks are definitely familiar with the struggle of managing their mop. Sure, having volume is great and there are tons of options for creating versatile hairstyles, but what about the constant frizz and the time it requires to style that hair? If you're struggling with the upkeep of thick hair, not to worry, we have crafted an entire guide of everything you need to know about caring for your thick mane.
PRODUCTS
Thick hair tends to be more on the dry side of the hair spectrum, so it's important to use products that keep your hair hydrated and keep the frizz at bay. If you're a thick haired babe who's struggling to keep her hair tamed below are our top product recommendations.
Why does frizz happen?
Before diving into which products to use to tame frizz, it's important to understand why frizz happens. Frizz is caused when the outer layer of your hair cuticle is lifted, causing moisture to pass through and swell the hair strands. When the cuticle is flat and not raised, the hair strands remain smooth and frizz free.
This lifting of the cuticle can be caused by multiple reasons, but the most common reason for thick haired ladies is dry hair, leaving the hair cuticles more prone to lifting. Let's say you have thick, dry hair, and you go outside when it's humid…what happens to your hair? Because your hair is dry and the outer layer of your hair strands are lifted, moisture from the air will rush into your hair strands causing each strand to swell, resulting in big, frizzy hair. So, how do we combat this?
HAIR OILS
If you're a thick haired gal suffering from dry hair, hair oils are going to be your best friend. The key to maintaining frizz is keeping your hair strands moisturized and nourished, which can be obtained with a few different types of hair oils.
COCONUT OIL
Coconut Oil has moisture retaining properties. It stays inside the hair, moisturizing the hair strands from the inside out, making it one of the most effective hair oils for frizzy hair. Coconut Oil is best used as a moisturizing hair mask. Simply coat your hair with the oil from root to tip, pop a shower cap on, and leave the oil to do its work for about 20 minutes. Then, rinse off your hair, shampoo and condition as normal, and enjoy smooth, moisturized, frizz-free hair.
Argan oil, also known as Moroccan Oil, is packed with beneficial nutrients like vitamin E, ferulic acid, fatty acids, and antioxidants. Just a few drops of Argan Oil will give your hair that extra boost of moisture to help fight dryness and frizz. Argan Oil is also not as greasy as Coconut Oil, so it's perfect to use every day as a finishing oil.
When it comes to choosing the right hot tools, it is important to choose the right hot tool for your hair type. Contrary to popular belief, not all hair dryers, straighteners, or curlers are made the same way, and certain materials are more beneficial to maintain the hair's integrity as well as prevent the hair from drying out. Ever wonder why professional hot tools cost so much more than your run of the mill drugstore brand or why your hair always looks that much smoother and shinier when you leave the salon? It's because your hair stylist has invested in higher grade hot tools, which you should too!
If you have thick hair, you'll know the struggle of washing your hair and spending the next hour fighting with it to dry and style it. An ionic hairdryer cuts down hair drying time for thick hair, by using negative ions to break down water droplets on wet hair, leading to dry hair fast, while controlling frizz and boosting shine.
Again, thick hair is usually much more prone to drying out, as the natural oils are unable to travel all the way down the hair shaft. This is why if you have thick hair, the ends of your hair will likely suffer from dryness naturally—especially if your hair strands are thick as well. Experimenting with a DIY hair mask is an inexpensive and convenient way to bring moisture and luster back to your tresses. Masks are important for every hair type, thick-haired girls included!
DIET CHANGES
Luckily girls with thick hair don't need to make many adjustments to their diet to help thicken their hair any further or grow more hair, but it's never a bad idea to focus on eating foods that contribute to your overall hair health. Just because you have thick hair doesn't necessarily mean it's healthy! Follow along for a few tips and recommendations that you can incorporate into your diet to keep you thick hair looking luscious for longer.
OMEGA-3 FATTY ACIDS
Omega-3s are found in many types of fish, as well as from plant-based sources like nuts and seeds and is one of the best nutrients for strengthening hair, skin and nails. For thick haired gals, Omega-3s can do miracles for adding shine, minimizing breakage and strengthening the hair follicles. Click here to learn more about Omega-3s and their benefits to your body.
B VITAMINS
Biotin, vitamin B12 and B6 are all essential for maintaining healthy locks. Whole grains, almonds, meat, fish, seafood and leafy greens are all strong sources of these vitamins and are important to support hair health. Often people don't get enough of these vitamins in their diet will see hair loss and this is where supplements can be useful.
HAIR HABBITS
Typically, girls with thicker hair tend to require quite a little more maintenance to keep their heavy locks looking sleek and tamed. Often this means more frequent heat styling or heavy product use, which can result in dried hair and fried ends. To keep your thick locks healthy and luscious, follow along for our go-to healthy hair habits.
ADD LAYERS
Adding layers is one of the first steps thick-haired girls can take to making their hair more manageable. Adding layers gives the hair natural body and movement and also thins out the hair to help tame it and give it shape.
DO FREQUENT HAIR MASKS
Hair masks are a healthy hair habit that all girls should incorporate in their self-care routine, but especially those with thicker, coarse hair! As mentioned earlier, the natural oils in thick hair are unable to travel down the entire length of the hair, leading to dry hair, especially at the ends. This leads to frizzy, unmanageable hair, which a hair mask once a week can help fix.
CUT BACK ON WASHES
This is actually a healthy hair habit that most girls should practice, but it is easiest to do if you naturally have thick hair. Since thicker hair tends to lean more on the dry side than the oily side anyway, you can get away without washing your hair for multiple days in a row before your hair starts actually looking oily. Washing your hair too often can actually strip the natural oils from your hair, leading to a cycle of dry hair, so if you're struggling with dryness, it's a good idea to cut back your washes as much as possible (even to once a week if you can!) in order for your hair's oils to balance out. And hey, if you're struggling with oily roots, there's always dry shampoo to get you by!
LEARN HOW TO PERFECT A BLOW OUT
The perfect blowout will save a thick haired girl from having to use multiple heat products on their hair. We know the struggle of blow drying, straightening and then curling to get your locks in tip top shape, but learning how to master a blowout can knock out a few of those steps and leave you with sleek, voluminous locks.
HAIRSTYLES
One of the biggest blessings of having thick hair is the huge variety of styles that you can create that girls with thinner hair might struggle with! From braids, updos and half-up styles, you can try any or all of the above with your thick tresses. If your hair is just too thick to manage for the day, try a beautiful fishtail braid. If you're feeling fun but need to alleviate some thickness, throw half of it up! The hairstyle possibilities are endless with thick hair…lucky you!