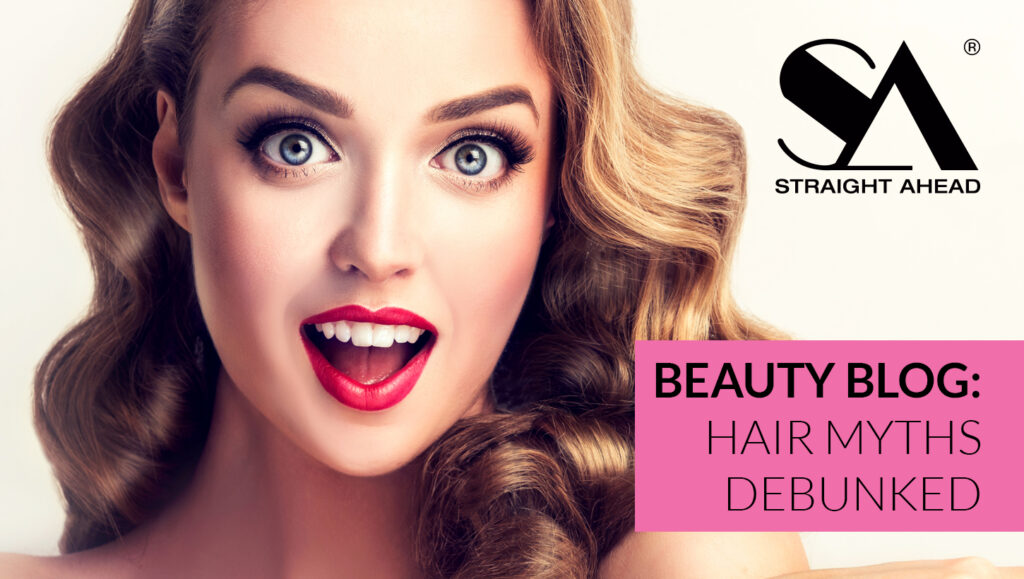 Everyone has a hair care routine they have been practicing for years. While some hair care rules you should still swear by, others may actually be a myth. These mythical hair care rules can actually do more damage than good to your hair. We are here to help by breaking down some of these myths and debunking them for good.
Frequent haircuts make hair grow faster
The reason why your hair seems to grow longer after every cut actually has nothing to do with the act of growing. Your hair grows from hair follicles on your scalp, so technically, it is always growing at the same rate, whether or not you have recently cut your hair.
Split dead ends are removed when you get a professional haircut, making hair growth more noticeable. When dead ends are not removed, they grow fragile and break, making hair seem like it is growing slower when, in reality, it is growing at its normal rate.
Brushing makes hair shinier
This myth actually has an adverse effect. If hair is brushed too frequently, the cuticles are damaged, and the hair appears to be duller. To prevent damage from brushing, start at the bottom of your hair and work your way up. Always avoid brushing too hard around the scalp.
Removing one grey hair causes two more to grow in its place
This is a common fear but, luckily, it is a myth. Grey hairs are caused by the hair follicle, so plucking it will make the grey hair temporarily disappear, but it does not affect the surrounding follicles.
Hair grows faster when you sleep with it down
Hair growth remains the same no matter what you do, and it depends on genetics. Although sleeping with your hair down does not change the rate of growth, it does protect hair from damage. If you are concerned your skin will break out by sleeping with your hair down, sleep with a loose braid or ponytail to keep your hair away from your face.
Blow drying causes damage
This myth is only true if you improperly blow-dry your hair. Do not use the highest heat setting or hold the blow dryer too close to the hair. Instead, blow-dry on a low heat and hold the dryer at a distance to prevent excessive damage. Use high-quality moisture to protect your hair from the heat.
Air drying is better than blow drying
Exposing hair for long periods of time to water causes the hair's interior to swell. This actually proves to be more damaging in the long-term.
Oil makes hair greasy
If you apply oil directly to the scalp then yes, this myth is true. Small amounts of oil applied to the ends of your hair, however, does not make your hair greasy. Instead, it makes it shine.
Coloring during pregnancy is dangerous
The real concern is ammonia inhalation, not absorption through the scalp. Always consult your stylist before considering dying your hair to get a professional opinion, and if pregnant, do not dye your hair at home.
Product immunity
Using the same conditioner and shampoo repeatedly does not cause hair to become immune to its effects. Hair is dead, therefore, it is impossible for it to build immunity to something.
Your mind may actually make this myth seem real. If you use the same product repeatedly, its newness wears off, and your perception changes, making you think it is no longer having a beneficial effect.
Coloring causes damage
This myth does hold some truth, depending on the chemicals in your hair dye. This is why it is vital to see a specialist for your coloring needs; this way they can assess your scalp's needs and choose a dye that will not damage or burn the scalp.
Dry shampoo is better for your scalp than regular
With the rise in popularity of dry shampoo, it is understandable that a few myths will surface. The reality is that dry shampoo does not clean hair, but makes it appear to be clean.
Your scalp needs hydration, which is accomplished through the use of a proper shampoo. Save the dry shampoo for when you really are in a pinch, but still wash your hair regularly for a healthy scalp.
Baldness in men is inherited from their mother
Researchers suspect that baldness is the result of multiple genes from both parents. The old thought process that baldness is passed on by the mother's X chromosome has no scientific proof.
Dandruff signifies a dry scalp
Contrary to popular belief, dandruff is actually the result of an oily scalp, not a dry scalp. The yeast which results in dandruff production thrives in an oily environment, so decreasing how often you wash your hair to decrease dandruff has the opposite effect.
If you are struggling with dandruff, then use a specialized anti-dandruff shampoo.
Products made for or marketed to a specific race/ethnicity cannot be used by those of other backgrounds
The ingredients in a product matter much more than to whom the product is marketed. In fact, most products have the same set of three to five base ingredients. Products for "ethnic" hair types tend to be more moisturizing and have more oils and proteins than those for other hair types. Damaged hair needs a good dose of moisture, proteins and oil to regain its healthy appearance.
The same holds true for products marketed to those with color-treated hair. Even if your hair is not dyed, using a product for color-treated hair can be beneficial because these shampoo formulas tend to be gentler (to preserve easily washed away hair color) and conditioners tend to be super-conditioning, but lightweight, to help reduce dryness from the coloring process.