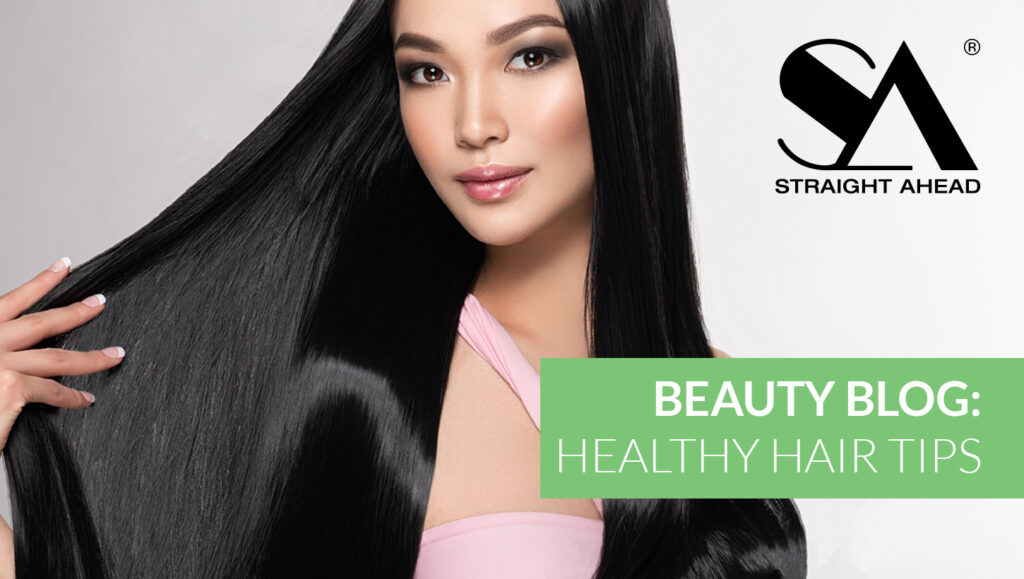 In today's age of intense dye jobs, pin straight blowouts and bouncy curls, it's no longer a question of "is my hair is damaged", but "how bad is it?". Now, before you throw in the towel or start feeling hopeless because you'd rather give up carbs than your flat iron, there is hope. With hair care products amping themselves up with natural ingredients to help repair the damage there are some tricks you can use to keep your hair healthy and happy.
GET IT WET LESS
Water makes hair swell from the inside, which forces the cuticle up. When that happens over and over again, you get frizz and breakage. Don't wash your hair more than you have to. Whenever you can skip a day, that's great. Instead, embrace a dry shampoo that's a hard-core oil and odor absorber.
GET SMARTER ABOUT YOUR HAIR CARE PRODUCTS
Our Keratin, Biotin & Argan Oil infused shampoo & conditioner are rich in vitamins A & C, natural oils and botanicals like Aloe, Jojoba Seed Oil, Olive Oil and Macadamia Seed Oil. These gentle formulas not only help hydrate the scalp, but also help to clean hair follicles so your hair can grow fuller and longer. They make great treatments for dry and brittle hair and will leave your locks smooth and shiny. Forget split ends and dead hair forever.
CHANGE THE WAY YOU CONDITION
We all know they smooth frizz and make your hair softer and shinier. But if you own a blow-dryer or flatiron, you should also know that conditioners are critical to heat protection. It's just as important as heat-protectant spray, if not more, because conditioner is better at coating the hair. Like our Truffle Leave-In Conditioner; infused with truffles, biotin and other natural ingredients, it absorbs deep into the roots, hair follicles and scalp to help nourish, moisturize and strengthen from the inside out. This allows for more residual conditioner to be left on the hair.
ADD LAYERS
Since heat is the worst thing for your hair, double down with a heat-protectant spray. But recognize that if it's going to work, you've got to apply it the right way: Grab small sections of damp hair and mist each one up and down the length (two or three spritzes per section). When you're finished, comb your hair to distribute the formula—heat protectants are pretty useless if they're not applied all over, getting there takes only a few seconds. Look for one that protects hair up to 450 degrees (it'll say so on the label).
COTTON IS BEST
Your cotton Madonna Virgin Tour tee is gentler on your hair than a towel for drying. Its why top hairstylists keep them on hand. They don't rough up the cuticle as much, so you don't have to work as hard to smooth the hair and make it look healthy.
COOL OFF
If your hair feels hot after you blow-dry or flatiron it, that means it's still frying. Hit the cold-shot button on your dryer to not only cool it off, but also to set the style.
GET CREATIVE
If you air-dry your hair overnight, you can minimize damage and free up time for snoozing, coffee, yoga or whatever in the morning. One trick that works for all hair types: Sleep with damp hair in two loose braids. It smooths frizz, loosens curls, and gives straight hair beachy waves.
TREAT YOURSELF
Weekly scalp treatments, like our Keratin Color Safe Revitalizing Hair Mask, make a bigger difference in the long run than you'd think. Keeping the hair follicles clean prevents the blockage and inflammation that leads to thinning hair later in life.
SHINE BOOST
Both our Revitalizing Moroccan Hair Serum and Infinity Drops are infused with Keratin, Biotin, Argan Oil and have been designed with no preservatives to help dry, lifeless hair come back to life! The unique blend of natural oils and botanical extracts, like Jojoba Seed Oil, Shea Butter, Olive Oil and Macadamia Seed Oil, help to hydrate and seal the cuticle, providing optimal nourishment, hydration, and silky softness to help tame frizz.
They slide effortlessly through hair and work wonders for all hair types, from fine to coarse. Everyone can enjoy smooth locks with a just a few drops of these miraculous serums.