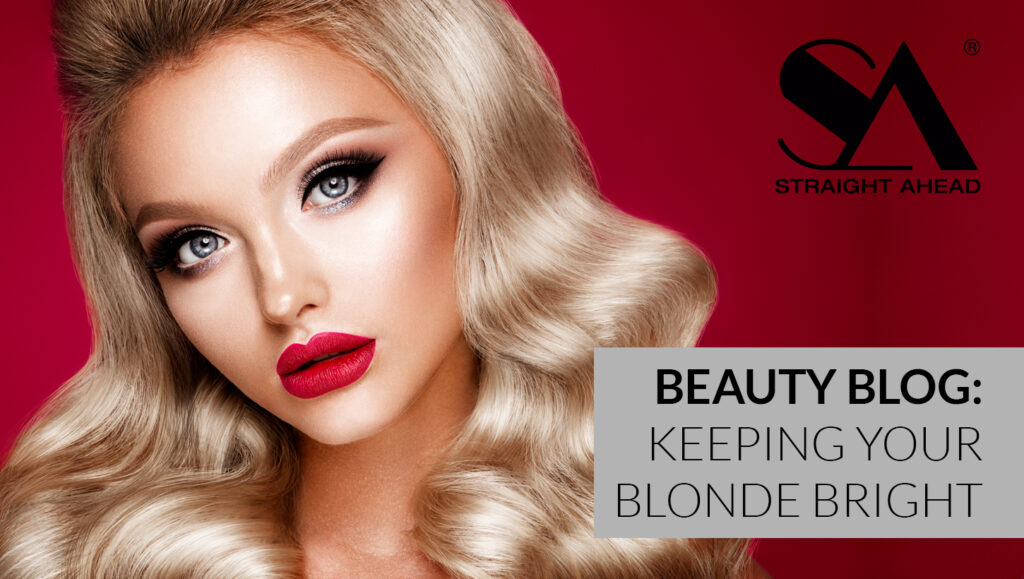 Want your blonde bright, sunny and vibrant without having to hit the hairdressers (and your bank balance) every 6 weeks? It's not too much to ask; here are some easy ways to get more blonde for your buck.
WASH YOUR HAIR LESS
Essentially washing your hair is what causes color to fade the most, so get to grips with dry shampoo. Hair Hack: apply some at night so it absorbs oil as you sleep.
USE A BLONDE FORMULA
When you invest in your next dry shampoo make it one for blondes. These formulas have a hint of color that will revitalize your locks and help blend in any root re-growth.
CHOOSE COLOUR-SAFE SHAMPOO
Don't underestimate the claims 'color safe' shampoos and conditioners make – they work! Only stick to fade-fighting formulas or you'll be washing money down the drain.
END WITH A COOL RINSE
Everyone can benefit from this trick. Simply finish your wash with cool water which works to close the hair cuticles, reducing fade and promoting shine.
TRY A PURPLE TONER FOR BRASSINESS
If you notice your blonde going brassy, alternate your color-safe shampoo with a purple one, intended for hair color-correction. The lilac counteracts orange therefore acting as an effective toner.
COUNTERACT CHLORINE WITH KETCHUP
If you're a swimmer you might notice your blonde hair can develop a green tinge. Remedy this with a tomato ketchup mask, left on for 20 minutes. The red neutralizes the green, leaving locks true-blonde again.
WASH YOUR HAIR WITH BEER
Another hair hack from your kitchen: A blend of beer and lemon juice coating your tresses while you sit in the sun will brighten your blonde.
REFLECT THE LIGHT WITH SHINE SPRAY
Shine sprays have light reflecting particles which can help illuminate your hair. Make a mist of this your last step when styling to add brilliance to your blonde.
How To Brighten Blonde Hair At Home
More women are going blonde for the summer. It seems there's a wave of blonde highlights everywhere there are women. If highlights are on the list of things to do, try not to damage the hair with harsh chemicals. Instead, use alternatives to harsh ingredients.
Try a homemade recipe to highlight dull looking hair. It's best to use natural ingredients, especially if you're allergic to the chemicals in store-bought brands. Besides, it's a lot cheaper to do it at home with natural remedies than to buy online or off the shelves.
Without further ado, let's find look at a few home remedies:
1] Cinnamon
Not only does it look tempting, but it smells fantastic, too.
Mix cinnamon powder and conditioner in a small container or pour into the palm. After the two are mixed, cover as much of the entire head as possible. Combing or brushing the hair thoroughly will help spread the mixture.
Put the hair into a ponytail or bun and cover with stocking or shower cap. Cut the lights off and go to sleep. When morning comes, rinse the hair first and then wash it. Repeat as often as desired.
There are no side effects to using cinnamon on the hair and scalp to keep blonde highlights bright.
2] Honey, Olive Oil, and Vinegar
Another great recipe for keeping blonde highlights their brightest is as follows:
One cup of raw honey
One tablespoon extra-virgin olive oil
Two cups of vinegar together
One tablespoon of cinnamon or ground cardamom
Stir until smooth and apply to moist hair. Brush or comb through for even distribution or the areas where highlights are to go. When ready, wrap hair using plastic wrap, swim cap, shower cap or is a towel.
Leave the ingredients in overnight and rinse/wash out the next morning. What's so fascinating about this recipe? The honey has tiny traces of hydrogen peroxide in it, so the hair gets lightened further.
3] Salt Water
Mix water and salt together to get an all-natural highlight. Take a part of salt with five parts of water and rinse the hair but don't wash out yet. Let the salt water stay in the hair for about 15 minutes and rinse.
How To Keep Your Hair Blonde After Bleaching
4] Chamomile Tea
Who knew chamomile tea would help keep blonde highlights bright? Evidently, lots of people knew to use it as a lightener. Try this recipe to extend the life of the dye.
Boil water and steep the bag of tea for approximately ten minutes. When the water is cool, rinse the hair with the tea and leave in the hair for up to 15 minutes. Repeat two or three times before washing or shampooing.
5] Lemon Juice
You can brighten blonde highlights with lemon juice. Take one cup of water and two tablespoons of pure lemon juice and pour it on the hair. Relax in the sunlight and let the hair dry. The bonus is getting a slight tan while laying out in the sun.
6] Baking Soda
Lots of people use baking soda every day for numerous reasons, but never thought to try it to keep blonde highlights bright. It also strips the hair of buildup of harmful chemicals. The only negative aspect of using baking soda is lightening won't happen overnight. However, it will work.
How to Lighten Already Bleached Hair
Typically, a semi-permanent dye doesn't last as long as permanent hair color. If bleaching the hair at home, remember to go one or two levels lighter than the original hair color or darker if that's the goal.
Most box dyes come with a chart to help determine the color before and after, with ten being the lightest blonde. Sometimes, it doesn't come out the way we see it in the magazines. With this said, no one said it had to remain that color.
There are ways to correct a botched bleach job. Let's check them out:
1] Clarifying Shampoos
Use a clarifying shampoo to strip away any color. Some shampoos contain chemicals that harm hair. Ironically, it's the stuff that makes the lather people love when washing their hair. If anyone is unfortunate enough to use a brand such as this, they will require a deep conditioner when done.
2] Use Color-Removing Products
If not satisfied with the results, you should remove the new color and return it to the original hair color. Find the best solution for the problem, regardless of whether it's a color that's too light or too dark.
The summer is one of the worst times for keeping blonde highlights bright. People tend to participate in water sports, and by doing so, it could turn the highlights green even. Stylists recommend using a red-based toner to fix dull blonde hair.
Hard water can fade highlights and make the hair appear more yellow or brassy than anticipated. This, too, is an easy fix. Try a violet-based shampoo and conditioner to keep unwanted hues at bay and lighten blonde hair.
Often, the hair gets drier following a bleach or dye treatment. Of course, dry hair is drab hair. The more the hair is highlighted, the more it becomes dry and brittle. Use a hydrating shampoo or mask to keep the hair moist. Make sure they are sulfate-free, however.
Protein is vital to the hair. It serves as a barrier, so the moisture doesn't escape the strands, and it will make the hair and roots stronger as well.