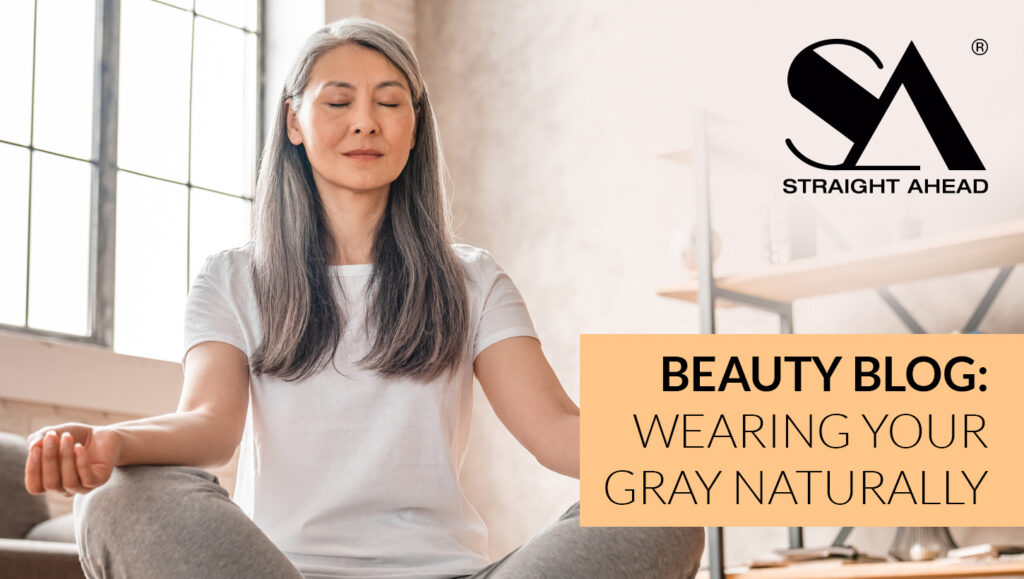 There is no denying that our hairstyle and color can play a major role not only in how old we look, but also how old we feel. But, going gray doesn't mean that you need to chop it all off or run to the stylist to have it colored. In fact, embracing the change and letting your color evolve naturally is easier than you may think and there are a ton of products on the market to help you along the way.
First, it's important to understand what happens to hair as it grays. It will begin to lose its density, shine and pigment as the oil glands in the scalp produce less sebum. As it loses melanin, it's natural protectant against UV radiation, it becomes more sensitive to the sun's rays resulting in oxidation of the hairs proteins. That is why it starts to look yellow and tarnished. The reduction of sebum can also result in the hair feeling coarse and dry, especially for curly textured hair.
Here are some tips to help keep your color from becoming brassy and your hair healthy.
USE A CLARIFYING SHAMPOO
A good sulfate-free clarifying shampoo will help keep products from building up on your scalp and clogging the pores while conditioning your hair. Some will even help keep your silver as white as possible.
GO PURPLE
When you aren't using a clarifying shampoo, we recommend using one of the purple shampoos and products to help fight off brassiness. They are great at keeping the brassy and coppery tones out.
MASK UP
Remember that gray hair needs more moisture. Make sure to choose conditioners that contain ingredients that moisturize your strands. You may also want to consider bumping up your hair mask routine to at least once a week. Masks, like our Color-Safe Keratin Mask are packed full of natural ingredients that support hair heath, moisturize and strengthen.
LEAVE-IN'S
Because gray hair needs a little extra attention, you should look into a good leave-in conditioner, like our Truffle Leave-In Conditioner infused with Biotin. It was formulated to absorb deep into the roots, hair follicles and scalp to help nourish, hydrate and strengthen from the inside out. Formulated to help add moisture, smoothness and shine with every use.
SERUMS
For gray hair health starts at the scalp and a good serum, like our Infinity Drops and Revitalizing Moroccan Serum help provide moisture, strength and protection for the scalp and hair while combating dryness and frizz.
HEAT PROTECTION
It is definitely a must to use a Heat Protectant anytime you are going to use heated styling tools. If your hair already has a hint of brassiness to it using heat without protection can cause it to turn a dull yellowish tone.
Did we miss anything? If you have some tips to add, leave them below in the comments.